Market Deeping Lincolnshire dust free pine floorboards floor sanding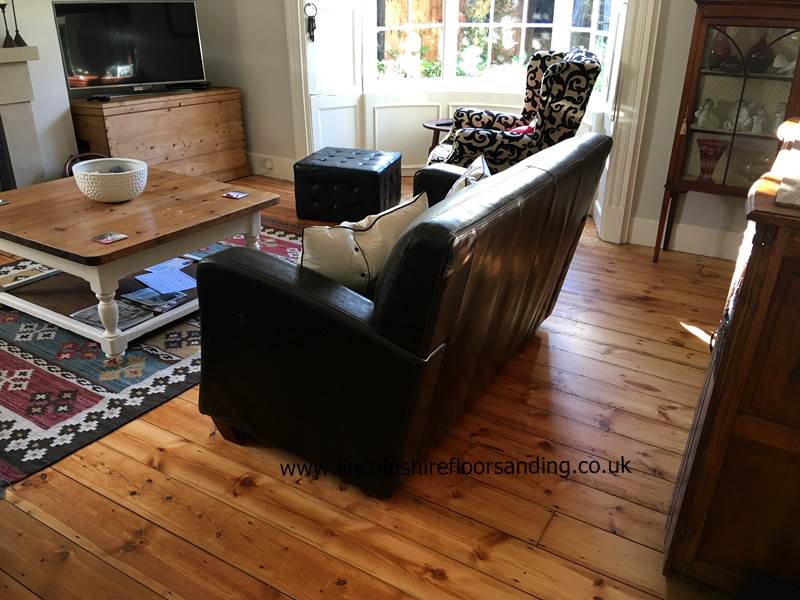 Floor sanding hire is not for the faint hearted as our clients from Market Deeping found out.
We received a phone call from a lovely couple that were in distress, they had hired a floor sander for the weekend and found, that the bituminous paint around the edge of there room was no match for a hire sander, as you can see from the first few photos the hire floor sander was struggling to cut through the black bituminous paint, they had used several belts and grits supplied with the hire sander, but in the end, gave in and decided to search for a floor sanding company, and they found us.
We are always willing to help, so we arranged to view the floor and advise a floor finish for them, they were very happy with the service we could provide for them and booked us in.
We sanded the pine floorboards using our dust free floor sanding equipment, and removed the bituminous paint from around the edge of the room, there was quite a layer so we used our special had held sanding equipment, we worked through a selection of abrasives sanding the floorboards clean and ready to be floor polished.
We polished the floorboards producing a smooth finish ready for finishing the floorboards.
A hardwax oil was then applied to the pine floorboards, rejuvenating the pine and bringing the floor back to life, the hard wax oil  brought out the natural deep colour of the wood and will give the floor years of durability.
We make the cleaning and maintenance of our hardwax floors easy, as we supply a FREE cleaning and maintenance kit with every completed floor sanding job. (one kit per address)